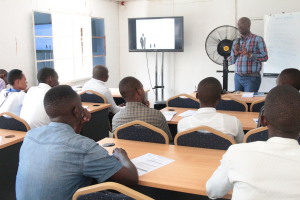 We have three main programs and four projects that we are currently working on in order to achieve our objectives.
Our Programs are:
Gir'iteka: This is a program that we have always worked on from the time New Generation started. The goal of this program is to assist street-connected children in order to give them a good future and hope.
Gir'ubuntu: Through this program, our aim is to create various networks of young people in the country who will promote peace and reconciliation in their communities.
Imboneza: This is a program that equips youth leaders with the right skills and knowledge (mainly in English, IT, Leadership and entrepreneurship) in order to help them become great leaders in the future.
The following are some of the projects that we are currenlty working on:
1. Road to school :  At New Generation, we believe that every child has the right to an education. Through this project, we seek to assist street-connected children by providing shelter, food, school equipment and tuition fees in order to enable them to acquire a good education.
2. Entrepreneurship project: This is a project with the main objective of encouraging young people to innovate and create employment.
3. University Fund: This is a project that supports young people  who desire to go to university but are unable to, due to various circumstances.
4. Healing Memories for True Reconciliation:  Burundi is a country that has gone through difficult periods of wars since the time of independance to date. This project mainly assists those who are victims of the war, by helping them forgive and embrace healing for themselves and their communities.